Australia
First Time In Sydney – The Important Checklist You Need To Follow
In the month of October 2017, I got a chance to visit Sydney solo and that was my first visit to an International country. I had no idea how to deal with abroad culture, their people, places, currency and the most important thing that came to my mind what would I do at the first time in Sydney, how to visit most of the places safely, solo and within budget.
So, I made pointers to follow a checklist of how to visit most of Sydney, within a budget and I enjoyed my one week visit there. Sydney is an amazing, safe city for all and there's so much to do. This Sydney checklist will help you with your first-time visit to Sydney and you will feel relax.
Buy a Sim card when you land
This is very much important to buy a sim for your daily usage. You will easily find a lot of shops in the airport area that provide sim cards with different options. I bought a Voda sim with 4g data as the internet connection is very much required to navigate the place or for WhatsApp calling purpose.
Buy an Opal Card for hassle-free transport
The most important way to get around Sydney or any foreign city is transportation. Taxis are very expensive and you can not walk too much to cover everywhere. Sydney has an extensive public transport system that includes trains, buses, ferries and light rail. They have an integrated payment method system called Opal Card which you can use to ride everything like trains, buses, light rails and even ferries too. Once you have bought the card you have to recharge for your commuting purpose and make sure you will tap on and off in buses or light rails. Opal card has different price caps on weekdays and weekends.
Daily cap: $15AUD

Weekly cap: $60AUD
Sunday cap: $2.50AUD – Yes! $2.50AUD on Sundays, anywhere, everywhere, and as many stops, you can travel.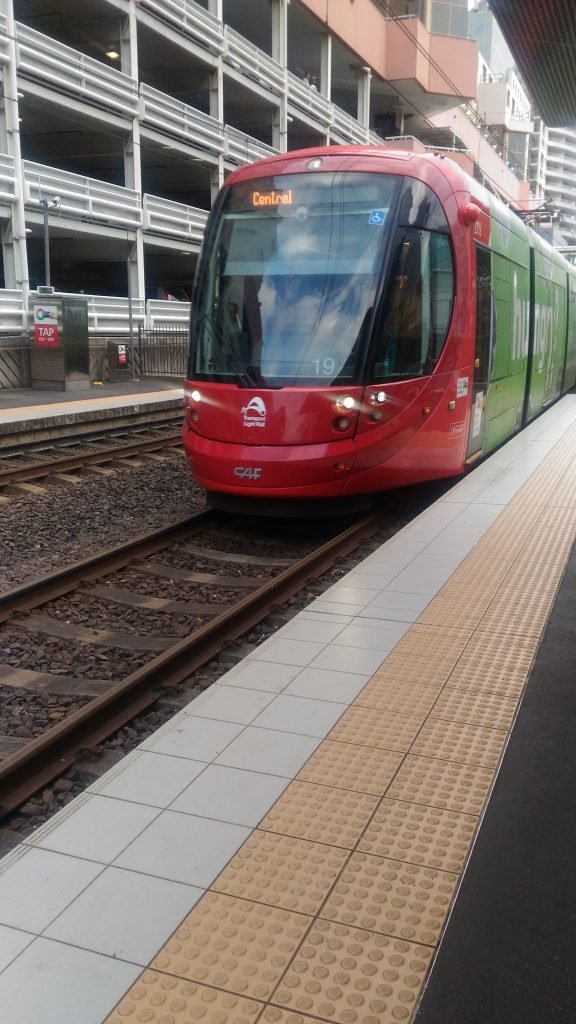 Light rail
You can easily purchase an Opal card from any store or can get the card at the airport only. So buy one and enjoy hassle free Sydney like a local.
Sydney is a city of an early riser
Yes! you heard it right. Almost every café in Sydney open by 7 am. Even most of the shops, malls, monuments, parks are also open by max of 8.30 am. So plan your trip early to roam around every possible place and utilize your time accordingly.
Sydney is a city of early closer.
Again you heard it right. It's normal for eateries to close their kitchens at 9pm. In the event that you've abandoned it past the point where it is possible to get supper, the chances are you may need to move far for it. Even the shop are open last 6 to 7 pm (most of them are close by 6 pm.) Same applicable for bars and pubs too.
Taxis are highly expensive.
I tried for uber from the airport to my hotel (travel distance max 40 min) and it charged me like hell. So make sure you will plan for it else Sydney has amazing public transport already discussed above.
You can opt for i-Venture (optional)
I had not much time in hand so I went to the i-venture shop and opted for their Flexi attraction pass. They have different options to get a ticket for remarkable monuments or entertainment parks and I chose the highest one 7 tickets for 3 days where I had to choose 7 options from a choice over 35 attractions.
This was the best option for newcomers to visit or cover as many places or opt for other options too.
What were the 7 options I opted from 35 attractions-
I chose Hop On Hop Off bus service (24 hours / Sydney and Bondi Tour) which was pretty cool to cover these 2 places. The bus experience was mind-blowing and you can enjoy the double Decker ride too.
Taronga zoo, Sydney Tower and Opera house tour the most iconic attractions I had opted for. Opera house has free to see from the outside but I went to the inside of the opera to know more about the Sydney Opera House and its history.
Sydney without cruise service is just incomplete. So as obvious, I chose Cruise service(24 hours/hop and hop off) to roam around the entire Sydney via sea.
Blue Mountain was my dream to visit and so I opted for the Blue Mountain Explorer bus. You can cover the entire mountain region with this bus service without any hassle.
Last but not least because of a short span of time I opted for fish and chips from the Blue Fish restaurant which turned into a good decision for me. This restaurant is one of the famous restaurants for seafood and has a heavenly ambience at the darling harbour seaside.
Tight Budget – Some free exercise for you
Sydney has a lot more free options to do like the free walking tour. You can check on google as there are many free walking tours run every day at different locations of Sydney. Just enrol and enjoy a super cool walk with light-minded travellers absolutely free.
There are a lot more attractions that are absolutely free to visit like the Museum of Contemporary Art, the Art gallery of New South Wales, the Botanical Garden, Hyde Park and Harbour Bridge. Climbing the bridge costs a lot of money, but walking athwart it doesn't cost a penny! This is one of Australia's biggest icons, and absolutely should not be missed!
These are the few points to be followed for a pestering free trip if you are planning to visit Sydney. There are a lot more things to learn and experience practically, but these are my most highlighted checklist of Sydney based on my personal experience..
Please follow and like us: