Travel
Complete Trekking Guide Of Deoriatal And Tungnath For Beginners
Since childhood I had a dream to chase the mountains closely, to feel the serenity of mountains, to breathe fresh air under the open sky and at least once in a lifetime to trek somewhere. Last year I have gifted myself a treat; a snow trek to chase the mountains in December to fulfil my dream. After coming back from that trek so many people from different age group with different fitness level keep asking me how to do the complete snow trek to the highest Kedar with the serene lake of Deoriatal. So being a beginner and a first-timer trekker here is my complete trekking guide of Deoriatal and Tungnath for beginners. ( Read: Complete trekking Guide for Beginners )
Deoriatal Tungnath is a perfect Winter trek for Beginners
Deoriatal is a dazzling trek for first-timers because of its forest trails and gorgeous lake. Ice on the cake is the snowfall with mesmerizing bird chirping all along the way. There are thickly wooded trees, there are small huts, there is a well-defined path throughout this trek. Pines, oaks, maple and rhododendrons are a few of the trees you see in abundance.
I did the snow trek, so unfortunately I did not find them in my way and maybe I will take another spring trek to visualize them. Deoriatal is a stunning lake with its pristine waters captivating the eternal beauty of Chaukamba 4-3-2, Kedar and Neelkanth peaks.
The most surreal view for this location is Mount Chaukhmba view at sunrise and at sunset time from the lakeside. The more you cherish the view, the more you fall for that place.
Tungnath and Chandrashila are just the perfect combo trek with deoriatal. As you hike more up to Chandrashila, all of the major summits can be viewed very closely. A very extensive range of the snow-capped Himalayan peaks and meadows can be seen from Chandrashila peak. Trishul, Nanda Devi, Kedar, Chaukhamba Peaks, and other popular peaks are clearly visible from Chandrashila. Nature has showered these pictorial views with sheer munificence and it gives you a heavenly feeling.
Route from Delhi
Start from Delhi – Rishikesh (night halt)- Sari (en route via Dev Prayag and Rudra Prayag) – Deoriatal (trek and night halt) – Chopta (night stay) – Trek to Tungnath, Chandrashila and back to chopta for night halt – Back to Delhi
Journey Begins
The Journey started from Delhi with a bunch of unknown people. That was my very first group trip and at first, it was difficult to initiate the conversation with them but after time we gradually made that bonding….
Picturesque Hamlet Sari
Sari village is the starting point of the Deoriatal Trek, is almost a 6 to 7 hours journey from Rishikesh. The journey was surreal, as we saw  Devaprayag, the confluence of rivers Alakananda and Bhagirathi to form river Ganga and Rudraprayag, the confluence of rivers Alakananda and Mandakini. The entire journey traverses with mountains and the river flowing with you. This journey was one of my favourite memorable road journeys and we came across some beautiful bhugyals (meadows).
Sari has covered with paddy fields with small houses surrounded by mountains. The welcoming gesture of villagers is just as pure as their hearts.
Deoriatal trek with a Bang start
Altitude: 6,601 ft (2012 m) to 7,841 ft (2,390 m)
Time is taken ( For me as I was a complete non-trekking person with average fitness level): 3.5 hours, 3 km
Trek gradient: Easy to moderate. Gradual hike on a well-defined rocky trail, which becomes steeper after the first 10 minutes. A short descent to the campsite after two hours of climbing.
When I started trekking to Deoriatal, as a novice, it was tough. It was tough to step ahead, it was tough to breathe, it was tough to believe that I could complete the trek. But I did. I tried, took baby steps, took rest and lastly I completed but I missed the sunset from lakeside. I skipped the view of the mountains ranges in the evening time. So, I decided to wake up in the early morning the next day and would give myself the privilege to chase my dream.
The next day around 4 am I woke up when it was too dark to step ahead out of the tent but I stepped ahead. I was fortunate to see the shades of mountains and how the sun was playing with the sky and kept changing the colour combinations from Orange to golden and so on.
Christmas and the highest Kedar – Tungnath with Chandrashila
Altitude: 8,790 ft (2,679 m) to 12,083 ft (3,683 m)
Time took: 7 to 8 hours, 2.5 km
Trek gradient: Easy to Moderate. A well-maintained path is there and the track is well defined that no guide is needed.
Note: Carry Water, juice and chocolate for energy and hydration purpose.
The most beautiful and snow-covered trek I ever did in my life. We started the trek early morning on Christmas day so that we could celebrate our evening with cake. The walk was a little steep as there was a pile of snow-covered on the path and I did slip so many times.
Tungnath temple is the third of the Panch Kedars. These are 5 temples whispered to have been built by the Pandavas in harmony for the sins of killing Brahmins and relatives in the Kurukshetra war in the Mahabharata. Lord Shiva, whose pardon they were seeking, disguised himself as a bull. Parts of this bull appeared in 5 different places, each of these identified as a Panch Kedar. Tungnath is where his hands and chest are said to have appeared. This place has the characteristic of being the only shrine in the world to be located at such a high altitude (12,073 ft).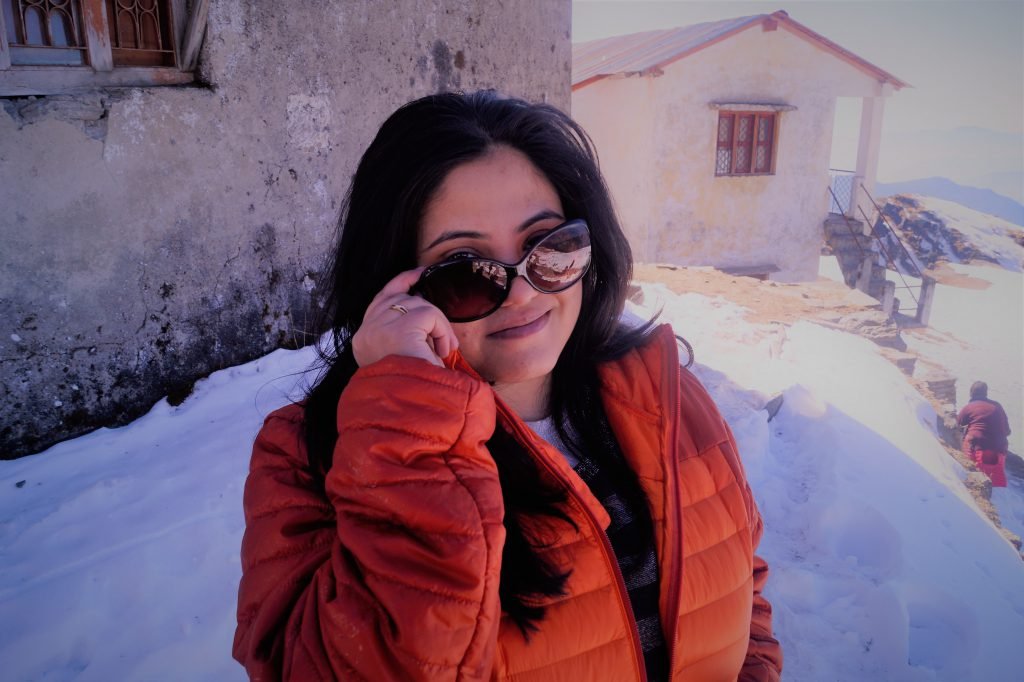 The evening well spent with the group members and celebrated Christmas evening at top of the mountain on snow-covered meadows. It was bone-chilling weather with a perfect gift for myself and the very first snow trek which I never forget.
The next day was bid adieu for all of us and came back to Delhi at midnight.
FAQs to prepare your trek smooth
Who can do this trek?
Anyone can do this trek with average fitness. Make sure you will take medicine (if feel AMS) , drink water much and intake sugar when required.
Best Time to visit
Any time of the year can opt for the trek. Those who are keen on snow trek can visit within December to April first week. March to early May for rhododendron blossoms and one can do trek this time to access the easy way to the forest trail with lots of birds.
How to reach there
By Air– The nearest airport to Chopta is Jolly Grant in Dehradun. It is situated 226 km from Chopta. You can easily hire cabs available for Chopta.
By Rail– The nearest railway station is Rishikesh from Chopta. Situated at about 209 km and can easily access bus or taxi services for Chopta from Rishikesh.
By Road – If you plan to visit the neighbouring towns in Uttarakhand, then a road journey would be most convenient. We hired a tempo traveller from Delhi.
Checklist
A rucksack bag almost 50 litres weight.

Warm clothes: windproof jackets, fleece/full sleeve sweater, thermals, woollen cap and socks and scarf

Comfortable clothes: tee-shirts, trousers and sleeper

Trekking pole

Personal toiletries and towels

Comfortable trekking or hiking shoes

Water bottles

Sunscreen lotion, lip balms  and basic medications (or prescribed if any)
Is it good for a solo trip?
Yes, Absolutely. Anyone can easily do it solo as the treks are well defined.
Important Notice
The Deoriatal-Chandrashila trail is closed for a night halt. Trekkers are not allowed to camp at Deoriatal or Chopta. If you would like to visit, you can visit Deoriatal and come back to Sari. Similarly, you can visit Chopta and climb to Tungnath, Chandrashila and come back. You can stay at Sari and Chopta but not at Deoriatal.
The trails of Garhwal Himalayas summon excite and experience. Lofty terrains prompting the summit make for a mind-boggling background and the encompassing excellence abandons you captivated. Chandrashila Trek with Chopta and Tungnath is a standout among the most energizing and testing trails you can step in Uttarakhand. Soaring up at 13000 feet, enhanced with fogs, coniferous, and snow, this is one hell of a trek you should take.
Please follow and like us: